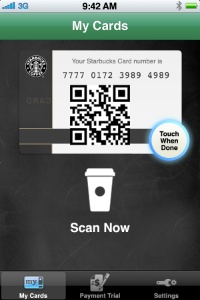 After a trial period at select stores, Starbucks has launched its mobile payment program in approximately 6,800 company-operated stores and more than 1,000 Starbucks in U.S. Target store locations, allowing customers to pay for in-store purchases with select smartphones.
"Today, one in five Starbucks transactions is made using a Starbucks Card and mobile payment will extend the way our customers experience and use their Starbucks Card," said Brady Brewer, vice president Starbucks Card and Brand Loyalty. "With mobile payment, the Starbucks Card platform further elevates the customer experience by delivering convenience, rewarding loyalty and continuing to build an emotional connection with our customers."
To pay by mobile phone, Starbucks customers must download the free Starbucks Card Mobile App. According to the company, more than one-third of U.S. Starbucks customers already use smartphones, of which nearly three quarters use BlackBerry smartphone or iPhone mobile devices.  In addition to the mobile payment capability, the app allows customers to manage their Starbucks Card account, check their card balance, reload their card with any major credit card (iPhone users can also use the PayPal feature), check their My Starbucks Rewards status and find a nearby Starbucks store with the store locator feature.
The payment process is simple — the customer holds the mobile device in front of a scanner on the countertop and scans the Starbucks Card Mobile App's on-screen barcode to make a purchase. Customers have successfully adopted this technology in test markets in Seattle, Northern California, New York and more than 1,000 Starbucks in U.S. Target stores.
Mobile payment is built on the Starbucks Card platform, which continues to experience significant customer adoption. Customers loaded more than $1.5 billion on Starbucks Cards in 2010, an increase of 21 percent over 2009, driven in part by the My Starbucks Rewards program which provides benefits to customers who pay with a registered Starbucks Card at participating stores.
"Mobile payment is just one example of how we're continually innovating on behalf of our customers to enhance the Starbucks Experience," said Brewer. "A growing segment of our customers use smartphones, and through the Starbucks Card Mobile App, we're providing them with the fastest way to pay."
Source: Business Wire; TechFlash